New Faculty Orientation
Welcome to East Carolina University and New Faculty Orientation 2023! We're glad to have you join our family and we've designed this page to help you get started on your Pirate Journey. If you have any questions or run into any issues along the way, please contact the ECU Office for Faculty Excellence (ofe@ecu.edu; 252-328-1426). We'll be happy to help you!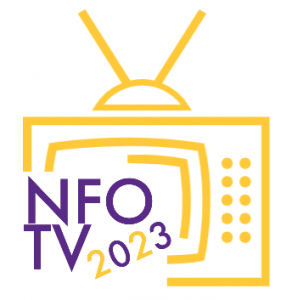 NFO TV Newsletters
Looking for more information before New Faculty Orientation? Tune in to the 2023 NFO TV Newsletters!
Tune in!
---
2023 New Faculty Orientation Schedule
Tentative Schedule
Monday, August 14th – Main Campus Student Center (8 am – 7pm)
Time
Session
Resources
8:00 – 8:30 a.m.

Main Campus Student Center



Registration Table – 2nd Floor

Outside of Ballrooms
NFO Check-in – Group #1

Faculty who are eligible for benefits and who have not already worked with HR to complete paperwork for benefits should check in at this time and plan to attend the morning session with HR representatives.
8:30 - 10:00

Main Campus Student Center Ballrooms
HR Session

This session will provide benefits guidance on ECU programs, plans, enrollment procedures, retirement systems and comprehensive leave procedures. Attend this session if you have not already met with an HR representative and/or submitted your benefits-related paperwork. It will not be repeated during the NFO event. You do not need to attend this session if 1) you are not a full-time faculty member, or 2) if you have already submitted your benefits-related paperwork. If you are not attending the HR session, please plan to check in between 10:15 and 11:00.
10:15 - 10:30

Main Campus Student Center

Registration Table
NFO Check-in - Group #2

This is a good opportunity for faculty not attending the HR Benefits Session and those who finish that session early to check in and take advantage of this opportunity to download and work with apps that you will use during NFO and as ECU faculty, visit the 1 Card Office, and review important training activities for new faculty.

Support will be on hand from ITCS and the NFO planning team.
10:00 - 10:30
Break
10:30 – 11:00 a.m.

Main Campus Student Center

Ballrooms
Opening Meeting with Full Group

This session will provide details about the schedule and goals for NFO 2022 and tips for making the best use of your time.
11:00 – 11:30 a.m.

Main Campus Student Center

Ballrooms
Welcome by Senior Administrators

This session will provide our senior administrators the opportunity to welcome you to ECU and share a brief overview of their respective roles.
11:45 - 1:15

Faulkner Gallery - Joyner Library
Lunch with Your Librarians

Faculty will be treated to lunch with your Joyner Library team. You will hear about resources and opportunities available to faculty through our libraries as well as have the opportunity to connect with members of the Joyner Library team over lunch.
1:30 - 2:15

Main Campus Student Center

Ballrooms
Learning Technologies at ECU

The ECU Learning Technologies team will provide information about ECU resources and our suite of supported teaching and learning tools.
2:15 - 2:45

Main Campus Student Center

Ballrooms
Teaching Supports at ECU

This session will feature general information about the support available to you at ECU for designing effective learning environments for your students.
2:45 - 3:00
Break
3:00 - 3:45

Main Campus Student Center

Ballrooms
From Our Students

Hear from current ECU undergraduate and graduate students about their experiences at ECU and some tips and suggestions from their favorite learning experiences. The session will end with a Q & A opportunity for students and the faculty in attendance.
3:45 - 4:00 PM

Student Center - in front of ECU Sign
Group Photo

Meet in front of ECU Letters in front of the Main Campus Student Center at 3:45 for an NFO 2023 group photo.
4:00 - 5:00

Main Campus Student Center


Ballroom C
Information Fair

Engage in discussions with representatives of organizations at ECU that partner with faculty to support teaching, service, research, and improving the quality of life in our region. An Information Fair map will be provided with more details about individuals, offices, and groups to be represented at the Information Fair.
5:00 - 7:00

Main Campus Student Center


Student Center Porch
(3rd Floor)
Chancellor's Welcome Reception

Join Chancellor Rogers, ECU senior administrators, our Deans, and your fellow new faculty Pirates for a floating reception on the 3rd floor porch of the Main Campus Student Center.
Tuesday, August 15th – Health Sciences Campus (8 am – 5:30pm)
Time
Session
Resources
8:00am - 8:30

East Carolina Heart Institute

Atrium
Check In

Join us at 8:00 to check in for NFO 2023
8:30 - 8:45

Auditorium
Opening Meeting

This opening session will provide an overview for the day and an introduction to the sessions featured on Tuesday's schedule.
8:45 - 9:45
Auditorium
Faculty Policies, Processes and Resources at ECU

The ECU 2023-2024 Chair of the Faculty will provide a broad overview of topics and resources related to faculty issues and governance, as well as suggestions for accessing support and getting involved.
9:45 - 10:00

Break
10:00 - 10:30

Auditorium
Faculty180

This session will introduce Faculty 180 and provide basic information to get you started. Faculty180 is a platform used by ECU for faculty professional activity reporting and facilitating various personnel reviews like annual evaluations, reappointment, promotion, and tenure.
10:30 - 11:00
Your Mentoring Map

You will leave this session with the National Center for Faculty Development & Diversity's (NCFDD) Mentor Map and tips for developing a network of support to help you accomplish your goals at ECU.
11:00 - 11:10
Break
11:20 - 12:10

Auditorium and Room A
Faculty Panels

Faculty Panels

Please select the breakout room facilitated by panels of faculty with roles most similar to yours.

Tenure/Tenure Track Faculty Panel

Hear from experienced ECU colleagues about policies and procedures regarding reappointment, tenure, and promotion, general faculty responsibilities, the Personnel Action Dossier (PAD), Annual Evaluations, and Progress Towards Tenure Letters.

Fixed Term Faculty Panel

Hear from experienced ECU colleagues about general faculty responsibilities, annual evaluations, and criteria for subsequent appointments, and advancement in title.
12:10 - 1:10

Rooms A/B/C/D
Networking Lunch

During Lunch (and with the morning discussions fresh in mind) you will have the opportunity to talk with new colleagues and table hosts about opportunities and resources available to you at ECU.
1:15 - 2:00
Supporting Our Students

During this session, you will learn about supports available for your ECU undergraduate and graduate students and how you can encourage students to access and make good use of those resources.
2:10 - 2:55

Auditorium and rooms A, B, C, and D
Breakout Sessions

Please select the session that best fits your interests, goals, and needs.






Office for Equity and Diversity: Initiatives, Programs and Training Opportunities



University Writing Program: Supporting Faculty as Writers and Teachers of Writing



Office of Global Affairs – Exploring Opportunities and Resources



Service Learning and Community Engagement Opportunities for Faculty at ECU



Starting your Startup: This session is for faculty with research start-up packages.

3:00 - 3:45

Auditorium and rooms A, B, C, and D
Breakout Sessions

Please select the session that best fits your interests, goals, and needs.






Office for Equity and Diversity: Initiatives, Programs and Training Opportunities



University Writing Program: Supporting Faculty as Writers and Teachers of Writing



Office of Global Affairs – Exploring Opportunities and Resources



Service Learning and Community Engagement Opportunities for Faculty at ECU



Starting your Startup: This session is for faculty with research start-up packages.

3:50 - 4:45

Auditorium
Research Supports at ECU

This session will provide an overview of research-related support available at ECU. You will hear about offices, resources, and people who are here for you – and how to get connected.
5:00 - 5:30

Auditorium
Closing Session