HOiST – Helping Our Students Thrive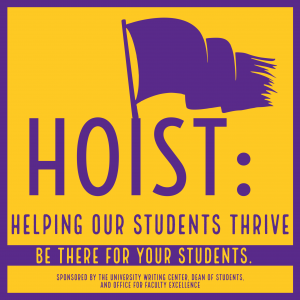 HOiST (Helping Our Students Thrive) is a series of workshops around creating a broader mental health support network for our students. Each session is led by a campus expert who will help facilitate a conversation around what campus resources are available and what appropriate levels of helping might look like for those working outside of that specialized area. Participants will leave with resources they can use in their own work with students
---
Upcoming Sessions
Sessions will be held virtually through Microsoft Teams sessions. Please register for the sessions using the links below.
Date/Time
Session
Link to Register

Fall 2023

Sept. 14, 2023
1:30 pm



ChatGPT and other AI Tools: How to Integrate Successfully on Campus


ChatGPT and other artificial intelligence tools are making waves across higher education, but many schools are still figuring out how to appropriately manage expectations and maximize benefits. This discussion will highlight challenges, strengths and opportunities for collaboration as we navigate the new frontiers of AI on campus.
View the Recording

Additional Resources

Example - ChatGPT and other Autogenerative AI Tool Policy

Example - Visual Overview - Scaffolding ChatGPT Objective Writing

Example - ChatGPT Tutoring Concept Dialogues</a<


Oct. 2, 2023
3:00 pm

"Health Promoting Campus and Strategies: What Techniques Translate to the Classroom"


As ECU begins the process of being designated as a "Health Promoting University," there is an opportunity to incorporate strategies that highlight trauma informed environments and positive connection to students. In this session, participants will learn about the Okanagan Charter which calls for universities to embed health into all aspects of campus culture, as well as tools that can assist with integrating health into the classroom environment.
View the Recording
Oct. 18, 2023
10:00 am

"Student Burnout and Stress in the Classroom"


Managing stress and challenging behaviors in the classroom has become a critical part of student success. In this program, participants will learn about mental health resources on campus as well as examples of how faculty have made changes or adapted their classroom environment to meet student needs.
View the Recording
Nov. 14, 2023
11:00 am - 12:00 pm

Financial Well-Being Resources for our Campus


The financial well-being of our students is critical to their success in the classroom, but often faculty and staff aren't aware of the resources available. Participants in this program will learn about services and referral options for financial support and addressing the basic needs of our students.

View the Recording

Spring 2024

January 24, 2024
10:00 - 11:00 am

"Pirate Populations": Students with Disabilities & Student Academic Success Services


With guidance from the QEP, our HOiST series will "Go Intercultural!" this spring with focused conversations around "Pirate Populations" on campus and the scholarships and practitioner perspectives that support our students. This first session will highlight the unique needs of students with disabilities and those using academic success services.
Join the Session
February 12, 2024
11:00 am - 12:00 pm

"Pirate Populations": Peel Center and Ledonia Wright Cultural Center


Continuing our Intercultural focus on "Pirate Populations," this session of HOiST will feature the resources offered in the Peel Center and the Ledonia Wright Cultural Center with an emphasis on scholarship and research that support these services on campus.
Join the Session
March 21, 2024
1:00 - 2:00 pm

"Pirate Populations": Pregnant and Parenting Students & Student Veterans and Military Affiliated


This session of HOiST will share the services and programs that support our students who are pregnant or parenting, as well as our military-affiliated and veteran students. Showcasing the Dean of Students Office and the Military and Veteran Resource Center, this presentation will offer Q&A opportunities with campus experts and researchers.
Join the Session
April 8, 2024
2:00 - 3:00 pm

"Pirate Populations": First Generation & Online/Distance Education Students


Concluding the "Pirate Populations" series, this HOiST session will share more information about the perspective of our first generation students at ECU and the programs designed to help with their transition to the campus community. Attendees will also learn about the needs of our online/distance education population and recommendations for increased engagement.
Join the Session
---
Additional Resources for Faculty
Syllabus Language and Academic Integrity Resources
The Office of Student Rights and Responsibilities has created several Academic Syllabus Statements that you can add to your syllabi.  They have created faculty resources and upholding academic integrity activities for inclusion in your course. For reference, ECU's Academic Integrity Policy.
---
HOiST (Helping Our Students Thrive) is sponsored by the University Writing Center, Dean of Students Office and the Office for Faculty Excellence.